Pidgeoan Island, Eastern Lake Ontario.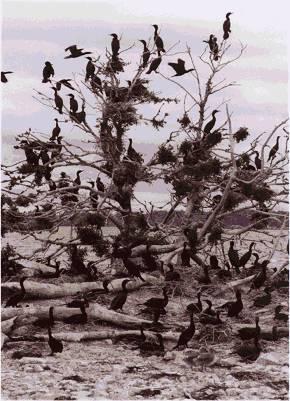 Courtesy of the Great Lakes Sport Fishing, Ontario, Canada.
Don't kid your self that this won't happen here, the anglers on this lake started off with only a few birds and they ended up with tens of thousands, and very poor fishing.
There are many bird watchers and members of the RSPB who would like to see this on our waters!
A target rich environment !
A gruesome sight !
So destructive you will barely be able to watch.
Coming soon to your area, courtesy of the RSPB. English Nature, and bird watchers every where.
Their appetite is huge!: M Read, Angling star.
It's amazing. The trees just die,: Dave, Hants.
The end of our great rivers:,D Taylor, Angling Times.
A sickening sight; Anglers, everywhere.
I cant find any food; A.N. Otter, Hants Avon.
Neither can I; Mr. Hungry Heron, Fordingbridge,
Since placing this picture here 13 years ago this sight has come my area, last winter there were about 135 cormorants at a local roost where there used to be none with 65 of them resting on one tree!